Commandes pour emporter disponible, en format regulier et familial.
Tel. 450-455-9111
Take-out orders available, in regular and family size.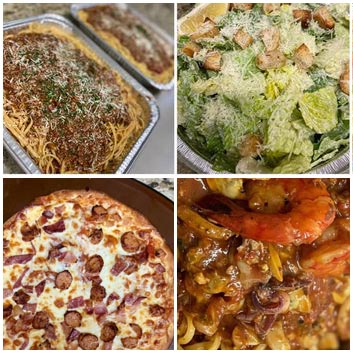 Vos saveurs de la cuisine Italienne-française !
Apportez votre vin
Your flavours of Italian-French cuisine!
Bring your own wine
Souper
Profitez et soirée avec des plats délicieux ~ apportez votre bière et vin!
Dinner
Enjoy and evening with delicious food ~ bring your own beer and wine!
Les forfaits de groupe
Réservez maintenant pour vos fêtes, anniversiares, et célebrations en groupes*!

( *nombre de personnes selon les disponibilites)

Group dinner packages
Reserve now for your upcoming party, anniversary, birthday, reception and group* celebration!

(*number of people depending on availabilities )

Menu
Profitez des classiques ou essayez quelque chose de nouveau de la cuisine.

Menu
Enjoy a classic meal, or try something new from the kitchen.
See our Menu

Lots of Options on the Menu
We have a delicious menu of classic Italian and French meals available in Saint-Lazare. Our restaurant has a warm and inviting ambiance and friendly staff that will ensure you have a pleasant dining experience.
Our chef has compiled a mouth-watering menu that is sure to satisfy most everyone. From children to adults, there is something that every family member will enjoy.
Beaucoup d'options sur le menu
Nous proposons un délicieux menu de plats italiens et français classiques à Saint-Lazare. Notre restaurant a une ambiance chaleureuse et accueillante et un personnel amical qui vous assurera une expérience culinaire agréable.

Notre chef a élaboré un menu alléchant qui saura satisfaire tout le monde. Des enfants aux adultes il y en a pour tous les membres de la famille.

Repas délicieux dans un bâtiment historique ~ Delicious meals in a historic building
Situé au coeur de Saint-Lazare, Ristorante Il Tesoro apporte une passion pour la nourriture que vous ne trouvez pas dans de nombreux restaurants. Quel que soit le plat que vous choisissez vous ne serez pas déçu et voudrez revenir encore et encore. Il Tesoro est situé dans l'un des plus beaux bâtiments historiques de Saint-Lazare reflétant l'architecture de la fin du 17e siècle. Situé à l'intersection principale au coeur du village de Saint-Lazare, à 20 minutes de l'ouest de l'île de Montréal. Il propose un large choix de plats de qualité notamment du veau de l'agneau du steak et de délicieuses pâtes avec sauce faite maison. Le menu rend hommage à la grande cuisine italienne et française. Les plats savoureux sont préparés par Ken Smith, chef vétéran et propriétaire, en utilisant les ingrédients et les saveurs les plus frais et les plus naturels.



Located in the heart of Saint-Lazare, Ristorante Il Tesoro brings a passion to food that you don't find in many restaurants. What ever dish you select you will not be disappointed and will want to come back again and again.

Il Tesoro is located in one of the most charming historic buildings of Saint-Lazare, reflecting the architecture of the late 1800's. Located at the main intersection, in the heart of the village of Saint-Lazare, 20 minutes from the West Island of Montreal. It offers a wide selection of quality dishes, including veal, lamb, steak and delicious pasta with homemade sauce. The menu pays homage to the great Italian and French cuisine. The savoury dishes are cooked by Ken Smith, veteran chef and owner, using the freshest, most natural ingredients and flavours.